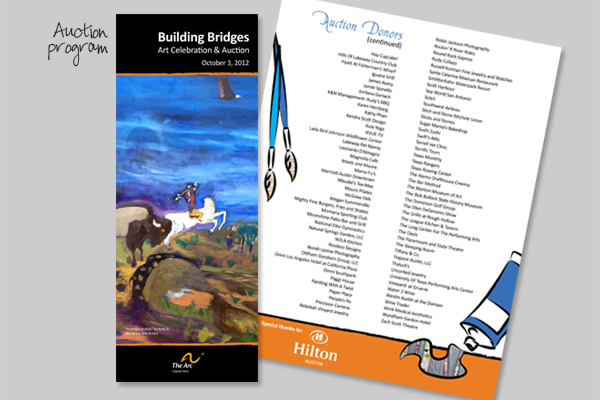 Arc of the Arts is an amazing Austin organization that offers art and music classes to adults with developmental disabilities. We've volunteered with the program in the past and absolutely love it, so it was exciting when they asked for some help with the design of their Building Bridges gala materials. And as if the project itself wasn't exciting enough, we also got to use amazing artwork from both local professional artists and clients of the Arc of the Arts program on the collateral.
First up was a simple save the date postcard, with a teaser image of one of the big pieces of artwork up for auction. The invitation followed closely, with more details and large, colorful images of the artwork up for grabs.
We also designed the 4.25″ x 11″ auction program. This splashy piece contained the program agenda, auction item list, donor lists and auction paddle all in one convenient package that could easily be slipped into a pocket or purse. All used bright colors pulled from the artwork, fun typography and artsy illustrations. Congratulations to Arc of the Arts and The Arc of the Capital Area on such an exciting and successful event, and thanks for all of the work you do every day!
Click here to learn more about our LLB Designs Doing our Part program.